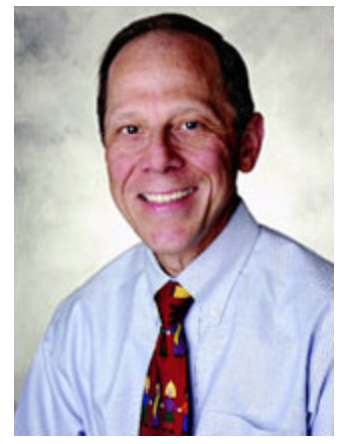 Fred Kaplan Inducted into the HPHS Hall of Honor
October 25, 2019
On October 25, 2019, Dr. Frederick (Freddy) Kaplan was inducted into the Highland Park High School Hall of Honor for his outstanding contributions to medicine and pioneering medical research for a little known but terrible disease, fibrodysplasia ossificans progressiva (FOP), in the auditorium of Highland Park High School. Current Highland Park High School students attended the presentation of Hall of Honor awards. Fred spoke to the how growing up in Highland Park and being educated in Highland Park Public Schools prepared him for his career and how it shaped his values. He specifically spoke to the many teachers in his life who helped shape his views. Deborah Miller, Shelley Kuchin Rosenberg, and Bob Zilinski were Fred's guests at the awards ceremony, which was followed by a luncheon in the HPHS media center. You can find the full text of Fred's remarks below.
On Friday afternoon, we celebrated with a get together at the Blue Horse Restaurant (formerly Sally's). Besides Fred and his wife, Tina (Dr. Tina Bales, a pediatric gastroenterologist), attendees included Susan Alai, Billy Criss, Jeff Hegedus, Barbara Julius, Shelley Kuchin (Rosenberg), Tommy Kuhn, Deborah Miller, Mike Quaranta, Paula Schwartzman (Metz), Ruthy Solomon, Eddie "Munk" Stephenson, Alan Weissblatt and Bob Zilinski. Micky Landis, Class of 1968 and HPHS principal Mike Lassiter were also in attendance.
On Saturday, several of our classmates, Linda Amar (Price), Alice Belsky (Gordon), Bonnie Dworeck (Krentzman) & Stew Krentzman, Randy Shapiro (Schwartzman) attended a lunch with Fred and Tina Kaplan also at the Blue Horse! Finally, on Saturday afternoon, we were joined by Tommy Kuhn and Billy Criss to cheer Fred on as he was recognized at the HPHS Homecoming Football Game.
Did you know that in 2006, Fred was recognized by Newsweek's "Giving Back Awards" as one of the 15 people who make America Great? https://www.newsweek.com/giving-back-awards-15-people-who-make-america-great-112719 The number of his awards and recognition by others are almost too many to count!
The HPHS Class of 1969 is so proud that Fred has been honored with the 2019 HPHS Hall of Honor award!
From Deborah Miller's nomination application:
"Dr. Frederick S. Kaplan, HPHS Class of 1969, is being nominated to receive the HPHS Hall of Honor award. As much as we all would like to believe that we have contributed something valuable to society, Fred's life has been dedicated to medicine, to helping people with a rare genetic disease, fibrodysplasia ossificans progressiva (FOP).
Fred attended Highland Park schools – Lafayette Elementary School and later, Highland Park High School. In the Albadome, he indicated that he wanted to be a medical doctor, so it is clear that he understood early on, the gift he had been given and wanted to contribute back to society even then. We all knew that Fred was smart, maybe even a little "nerdy" (as he himself suggested), but in going through his multi-page CV of research, recognition and awards, teaching and mentoring, papers and articles, and the like, this recognition could not go to a more deserving alumnae. What is so refreshing about Fred is that even with all of his accomplishments, he is so down to earth, so approachable."
From the "Rare Impact Award" that Fred received in 2017:
"Dr. Frederick Kaplan's life changed the day he met a 2-year-old girl with fibrodysplasia ossificans progressiva (FOP), a debilitating and progressive rare bone disorder. In the three decades since, he has dedicated himself to FOP research and traveling the world to treat patients. He demonstrates how, inspired by a single case, one person can change the course of medicine.
In 2006, due to 15 years of his tenacious efforts, Dr. Kaplan was part of the team that discovered the gene causing FOP. The discovery has tremendously accelerated the development of therapeutics for this devastating and life-shortening condition. In his view, the possibility of a treatment as just around the corner and his dream of "transforming FOP from a nightmare to an inconvenience" is close to coming true.
"I want my career in medicine to be more than fixing things that we know how to fix," says Kaplan. "I want it to be about fixing things that we don't know how to fix, and want to use whatever techniques can be brought to the task."
As a young clinician, Dr. Kaplan made the decision to put the FOP community on his shoulders. After meeting that young patient, he began a part-time sabbatical for research "so that we would no longer be in the dark about what causes the condition" that he calls catastrophic and essentially causes the body to form a second skeleton. Today, because he understands that many still have nowhere else to turn, he travels the world, cares for more than 800 patients, and is never more than a text message away.
"Diseases are not just biological processes, they are human experiences," says Dr. Kaplan. "You can't be exposed to this kind of stuff and walk away. You can't be exposed to this kind of power in technology to find things out and make things better and turn away from it, at least I could not."
Dr. Kaplan's pioneering work is also thought to have applications for more common bone diseases and may be useful for other heterotopic bone formations, athletic medicine, and treating spinal injuries and war wounds.
"As a young, struggling medical student, I was trying to find some things to hang on to, to help me understand the basis of diseases. It was alluring, exciting to me that you could learn lessons from rare diseases that could be applicable to common ones," adding, "the rare ones show us how nature works."
Dr. Kaplan encourages others to study rare diseases. In his words, "there is no other realm of medicine that can afford you greater intellectual fulfillment or long-term personal satisfaction than to be fully engaged with patients and families who are challenged with rare disorders. They liberate your mind to the enduring values of the human experience and allow you to contribute in ways you never thought possible."
---
Fred's remarks upon being inducted into the HPHS Hall of Honor:
Highland Park High School Hall of Honor
"A Common Thread"
Frederick S. Kaplan, M.D.
Highland Park High School, Highland Park, N.J.
Friday, October 25, 2019
I am incredibly honored to receive this award - and thrilled to be back at Highland Park High School (HPHS) where I spent four fantastic years – and where I graduated 50 years ago. Each of us certainly has a different journey through HPHS – but I believe we all have a common thread that stretches through the generations – great teachers – who make an indelible difference in our lives.
My career in Medicine and Medical Research has been extremely gratifying and fulfilling. I began my journey in medicine right here – on this stage – as a freshman – under the direction of the iconic and flamboyant English teacher and drama coach Robert Stevens – for whom this auditorium is named.
On this stage, I played the role of a bumbling country doctor, Dr. Bradley, in the Moss Hart & George Kaufman comedy The Man Who Came to Dinner – and I had a blast doing so. I could barely remember my lines or my cues, but that added to the humor – and I loved it.
For years afterwards, when Dr. Melvin Michaels, then Principal of HPHS, passed me in the hallway on my way to class, he would greet me with a broad smile and "a Hello Doc!" I had no choice but to become a doctor after that! It was a self-fulfilling prophesy – and it started right here – right on this stage, 54 years ago – almost to the day.
Despite playing a country doctor in a HS comedy, a year later I suddenly found myself in the intensive care unit – academically. Sophomore English class with Miss Patterson was pure drama. We had a required summer reading project – "Great Expectations" by Charles Dickens – and we were assigned to write an essay about it – on the first day back at school. When the essay was graded and returned, there was a big fat "D" on it. I was challenged by Miss Patterson to re-write it, and was shocked to get a "D+" on the re-write. When I questioned the grade, she told me that the re-written version was no better than the first draft – the plus was only for the effort.
I knew it was going to be a long year. But, by the end of it, and after a lot of work for both of us, she taught me how to write. It was a lifelong gift – one of the best I ever received – and one that I use – and enjoy to this day. In retrospect, I am very grateful for that "D." It would have been far easier for her to let it ride, but she knew I could do better. She cared – and that is a mark of a great teacher.
After I graduated from HPHS, I met some good teachers at the university, and many excellent teachers in medical school, but nowhere did I encounter the truly great teachers that I had right here at HPHS. The names of those teachers shine like beacons in my mind. The list is long - and the names are many.
I fondly remember all of them – even the ones who gave me "D's" – They were the best of the best….
because they inspired,
because they challenged,
because they lit intellectual fires,
because they made learning fun,
because they taught life lessons
and because they cared.
They cared not only what we learned, but also how we learned.
If you ask ten different people what make a great teacher, you'll likely get ten different answers. But, there would likely be a common thread - someone who cared enough to make a difference – someone, who for reasons - often intangible - but so incredibly real, has appeared on the scene of your life and challenged and inspired you - in ways you might not have imagined.
As the historian, Henry Adams said, "A teacher affects eternity; no one can tell where the influence stops."
That's what HPHS has meant to me – and still means to me – the great teachers- and the great education I received here. I hope, in the fullness of time, it will mean something as magical to you – however you dream it – and regardless of what comedy - or drama you happen to be in.
Thank you again to all my classmates for supporting me, to Debbie Miller for nominating me - and to the awards committee for selecting me for this magnificent honor. It's really great to be back here at HPHS. Thank you.
---
Photos
HPHS Hall of Honor Ceremony
Friday, October 25, 2019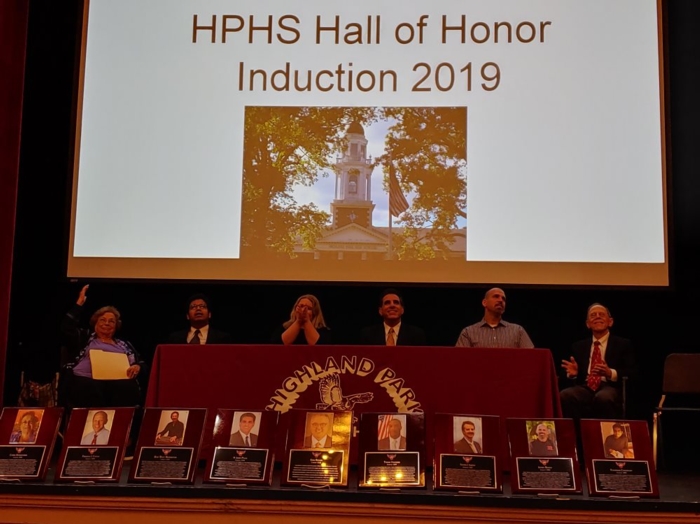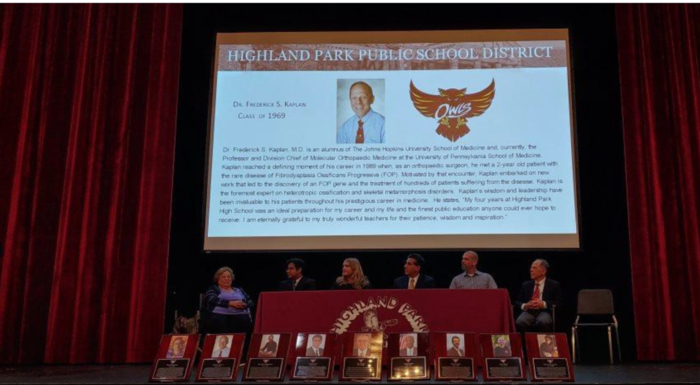 Ken Chao, a senior class officer, congratulates Fred on his induction to the HPHS Hall of Honor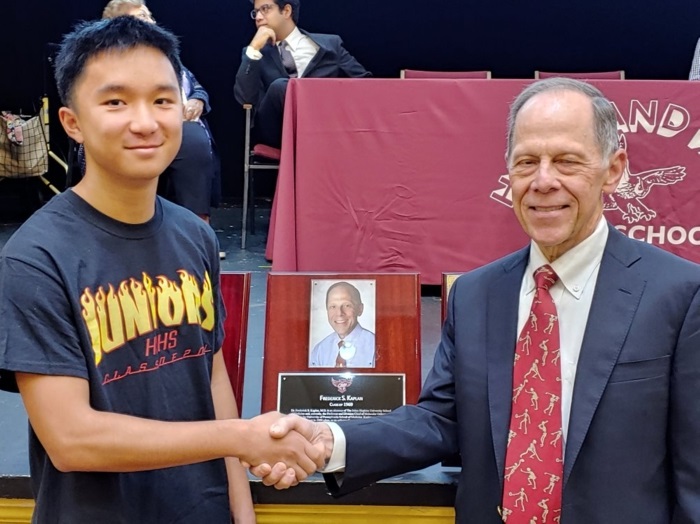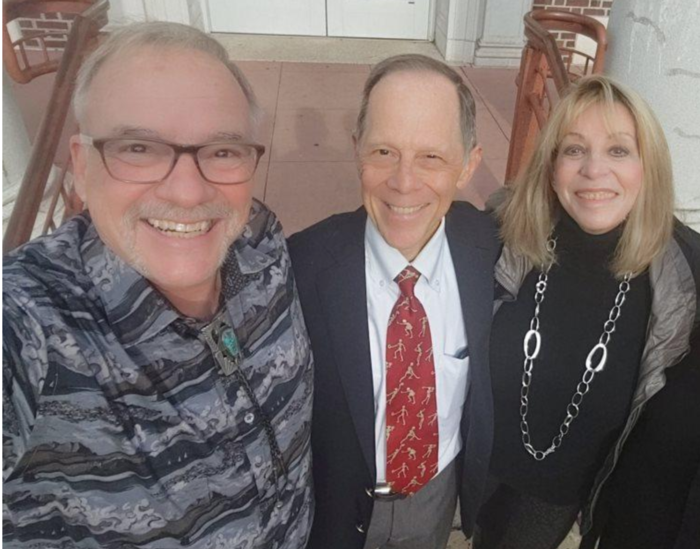 Bob, Fred & Shelley celebrate at Fred's Induction
---
Munk Stephenson's Brief Video of October 25 reception honoring Fred:
https://vimeo.com/user101891429/review/371186054/b5311a383d
---
HPHS Homecoming Game & Lunch in Fred's Honor
Saturday, October 26, 2019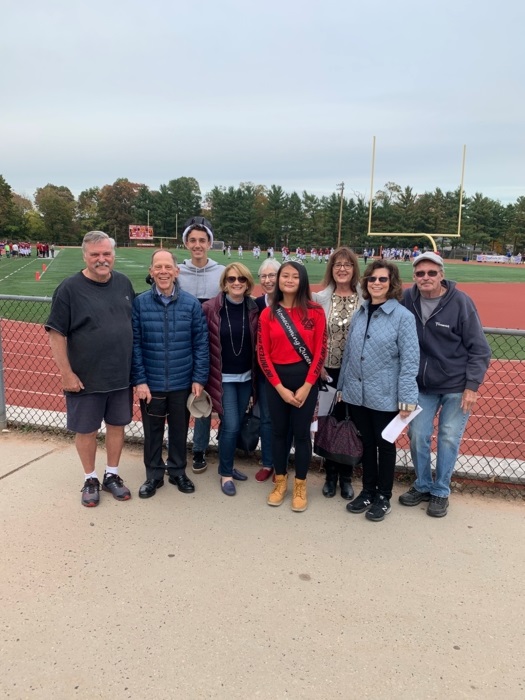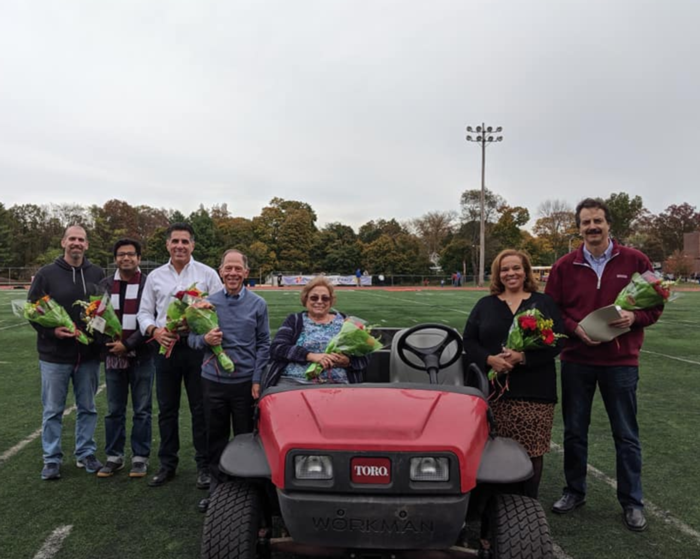 Class of 1969 with 2019 Homecoming King & Queen
A little more casual than when we were in high school! 2019 HPHS Hall of Honor Inductees
Billy, Freddy, Bonnie, Linda, Randy, Alice and Tommy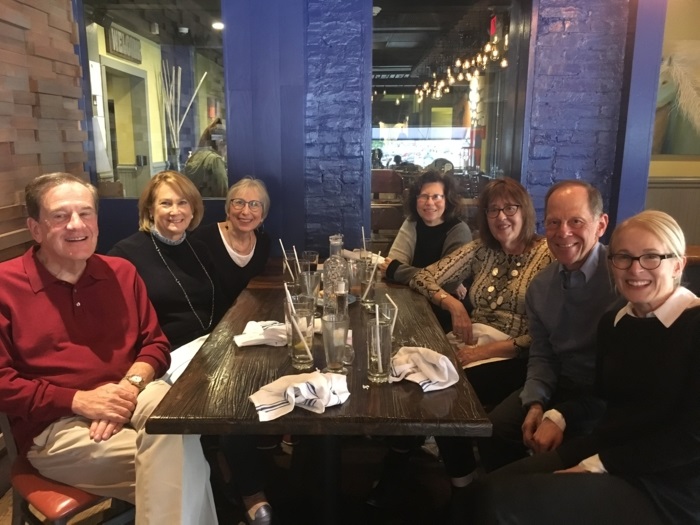 Lunch at the Blue Horse! Stewart & Bonnie, Linda, Alice, Randy, Fred & Tina
---